Keeping the floors of any space in good condition has many important benefits. Properly maintained floors help any business or home look great from the bottom up. Flooring that is kept in good shape also helps serve as the perfect backdrop for the furnishings and other decor in the room. A well polished and well maintained wood or stone floor can offer a soft and welcoming entrance as well as helping bring the natural world inside. Many people find that renting or buying tools to keep their flooring in the best shape possible is an ideal way to maintain their flooring and avoid potentially costly repair bills. Using floor buffers is perfect for anyone who wants to have a handy, easy to use machine. These machines can be used as easily as any vacuum cleaner or mop. They're even more efficient at picking up dirt and making any flooring look just as good as the day it was installed.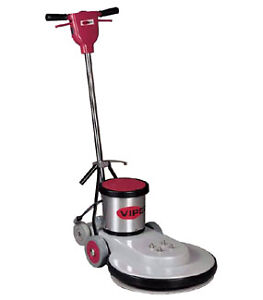 Factors to Consider 
When renting or buying a floor buffer, it is best to think about certain things first. One of the most important is that of the size of the buffer. Many people want to have a size they can find easy to handle. For most people, that size is one that is twenty inches. That allows for maximum floor coverage in a single motion. Others may find at thirteen inch or seventeen inch more appropriate for smaller spaces where they need more room to maneuver. Another thing to keep in mind is power of the machine in question. For most people, a 1 HP rating is fine for standard polishing. However, if more heavy duty work is needed, it may be better to pick out a machine with a more heavy duty HP rating. When really heavy work needs to be completed, a model with a 2 HP rating is better as it allows for more power and makes sure that all the grit is removed if necessary. 
Renting or Buying 
A floor buffer can be rented from many hardware stores. Stores also stock models for sale. Which particular option will depend on multiple factors. Those who have a huge expanse of flooring that needs to be carefully maintained may wish to think about buying the machine. This allows them to use it whenever necessary and keep it stored in a convenient place. Frequent cleaning with the machine helps keep all the flooring in the space looking great no matter the weather or how many people enter the space during the day. For those who have smaller spaces, renting a machine can make more fiscal sense. A machine can be rented for a few hours when cleaning the floors and then used as needed. Renting a machine is often the cheapest option, allowing for use of more advanced models.